To complement the mission of the library, the staff have created a new collection called "Library of Things". This new collection contains a variety of useful, entertaining items that may not be affordable to purchase or may just be needed for a project. This collection will go far beyond the books, magazines and media that have been the primary focus of our library.
Please check out this new collection! And let us know what else we should offer. 
Frequently Asked Questions
How long are items checked out?
Each item is checked out for 2 weeks.
Do I need a MORE library card to check out an item?
Any MORE library card will work.
Can I put a hold on these items?
Yes, however you need to call the Circulation desk for assistance. Holds for these items cannot be made online.
Will these items be delivered to my "home" library?
No. You must pick up and return items to our library at the Circulation desk.
How do I return an item from the Library of Things?
Please return the item to the Circulation desk in the lobby during our open hours.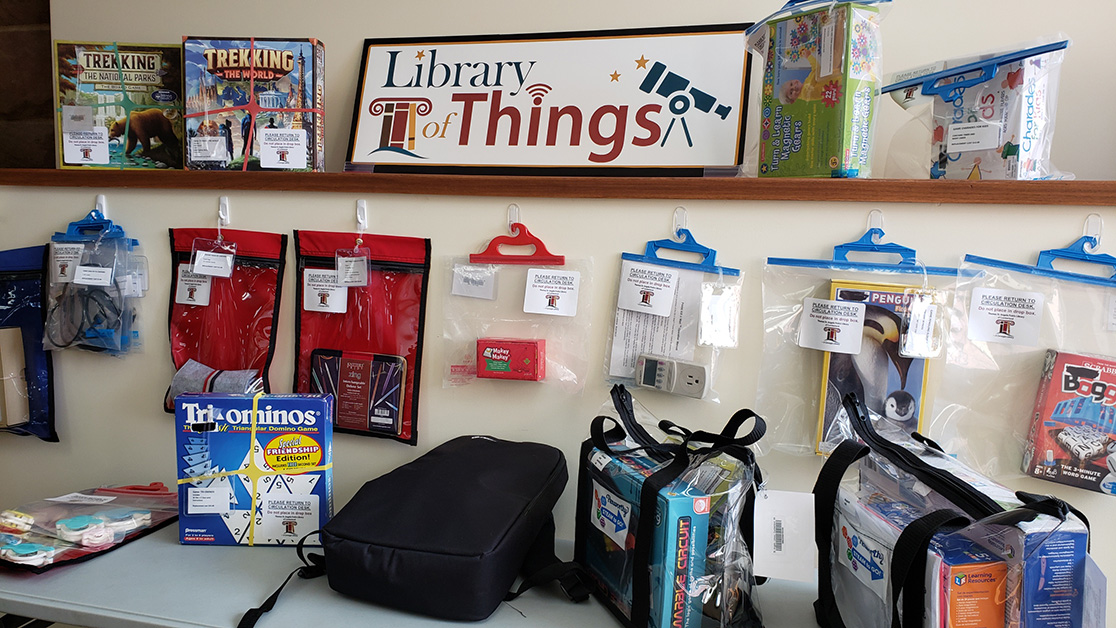 Categories
More items are added weekly. Stop in to view the entire collection.
Crafts
Cricut joy
Crochet hooks
Knitting needles
Knitting machine
Paper making frames
Pom-pom Maker
Sewing machine
Woodburner
Spyrosity
Games
Apples to Apples
Azul
Boggle
Cathedral
Charades
Checkers
Chess
No Stress Chess
Pengoloo
Moose Master
Pictomania
Count and Lace Fruit
Dinosaur
Harry Potter Clue
Star Wars Clue
Honeycombs
Human Body
Jenga
Magnetic Gears
Makey Makey
Nintendo Switch console
Number Sequencing puzzle
Rhyming puzzle
Penguins floor puzzle
Pattern Play blocks
Prickly Pile Up
Quake
Roll and Race
Scrabble
Square up
Household Items
Cake decorating kit
Food dehydrator
Heart shaped cake pan
Lighted magnifier
Star shaped cake pan
Teddy bear shaped cake pan
Ice cream maker
Music
Ukulele
Singing bowl
Steel drum
Science
Rock Tumbler
Science kit: circuits
Science kit: magnets
Celestron telescope
Blood pressure monitor
Sports
Binoculars
Children's life vest
Cubii
Disk Golf
Trekking poles
Metal Detector
Technology
Cassette player
CD player
DVD player
HDMI cable
Launchpad: ACT prep
Launchpad: Number the stars
Launchpad: Take a ride to read
Mini speaker
P4400 Kill-a-Watt power meter
Projector
Speaker
Video projector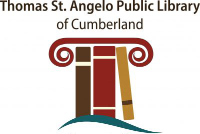 Thomas St. Angelo Public Library
1305 Second Ave.
Cumberland WI, 54829
715-822-2767 | cupl@cumberlandpl.org
Hours
Monday         9:00 am - 7:00 pm
Tuesday         9:00 am - 7:00 pm
Wednesday  9:00 am - 7:00 pm
Thursday      9:00 am - 7:00 pm
Friday            9:00 am - 7:00 pm
Saturday       9:00 am - 1:00 pm
Sunday          CLOSED
Cumberland TSAP Library Foundation Inc
The programs that we provide free to the public are paid for by your donations. Your donations are greatly appreciated. Thank You!